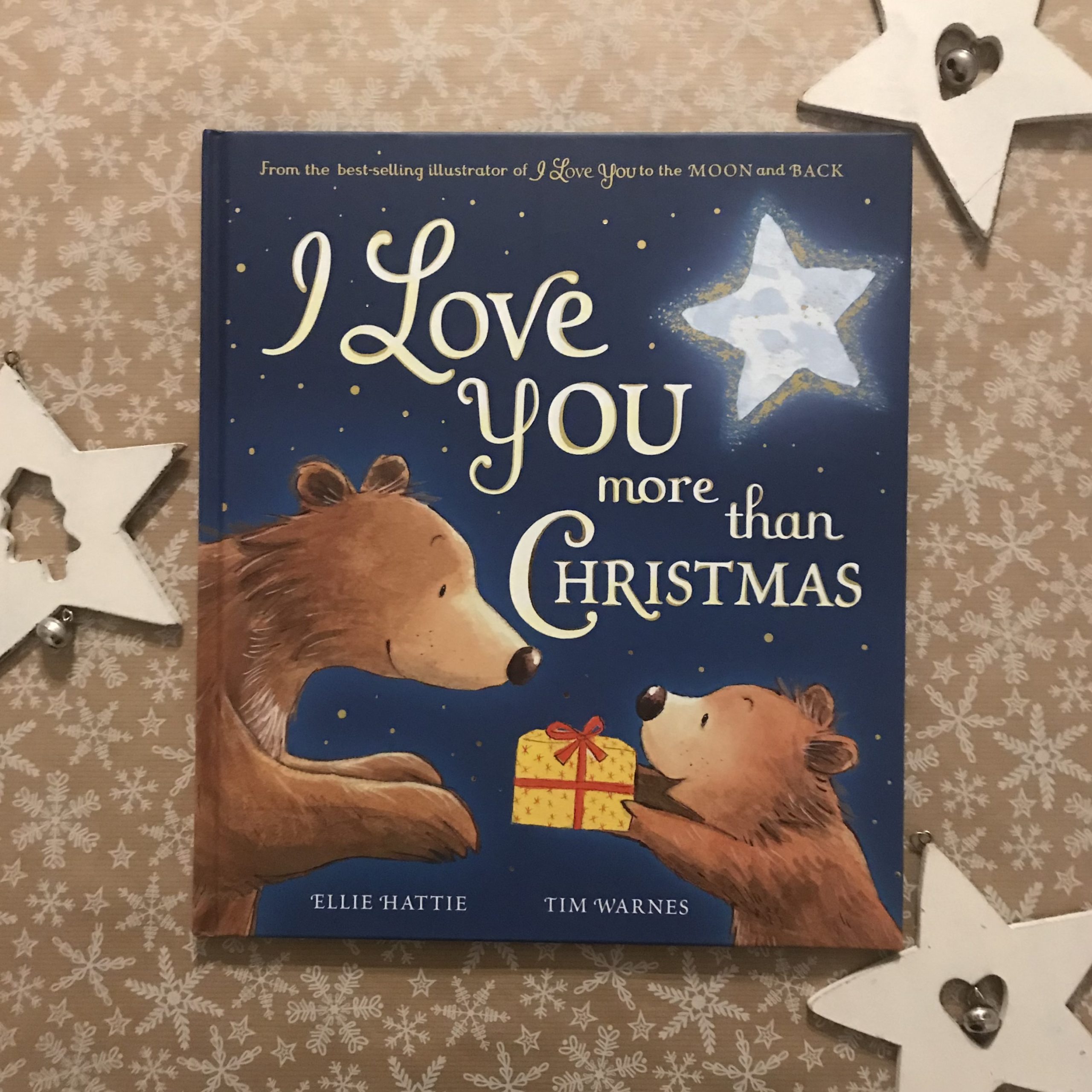 Ellie Hattie – Author 
When my publisher asked me to write a book about what I love about Christmas my first thought was "Where do I begin!!?" 
And really, it was as straightforward as that! I started to list every single thing about the festive season that makes me smile, the tinsel, the baubles, the food, the songs, the gifts and presents. The friends! The family! And that's when it struck me. The thing that I LOVE most about Christmas is the LOVE that it's wrapped in. 
I remembered being small and the building excitement as all the Christmas decorations and smells started to accumulate in the house. But the loveliest piece of the puzzle, the cherry on the cake, the star on top of the tree, was being wrapped in hugs, full of love, by my parents on Christmas Eve and Christmas morning!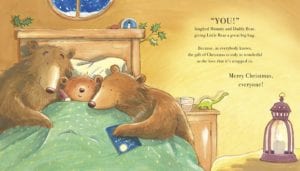 I knew that the fabulous Tim Warnes was going to illustrate the story and I couldn't wait to see the characters come to life. There's nothing more exhilarating than watching an artist work their magic, and the Bear family did not disappoint! Little Bear is so exuberant – the character's joy radiates from the page with every furry smile and outstretched paw! And the final spread – the final hug – makes my heart sing every time I look at it. It perfectly captures that moment from my childhood that I remember so vividly. Of many merry Christmases, sandwiched between my parents, wrapped in love. 
Tim Warnes – Illustrator
Here's the thing about bears. Everyone loves them – and so they are in big demand from publishers (which is why there are so many bear books out there!).
So, yes – I've created many bear characters over the last 25 plus years. Which always leaves me wondering: How can I make these bears look a little different?!
I had recently read an article by the mother of an overweight child asking, Where are the positive, fat characters in picture books? So I decided to make the little bear pretty chubby. And Daddy Bear? He received the big, heavy-eyebrows treatment!
One idea that pleases me was beginning the story with little bear ice skating. I was racking my brain trying to think of an angle I'd not used before – and this was it! It's a good demonstration of the illustrator's role – to not only illustrate the text but also bring another layer to a story. This particular scene conveys a sense of movement and joy — an appropriate way to introduce the bubbly Little Bear!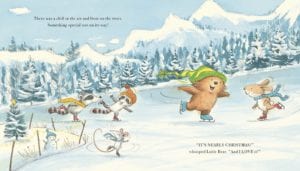 The penultimate illustration, though, is my favourite! I always looked forward to bedtime stories when I was a kid. And when I became a dad, it was still the time of day I looked forward to the most. Storytime, for me, is a snuggly, intimate time to pause and spend some precious quiet quality time together.