When Granny Saved Christmas
Author: Julia Hubery
, Illustrator: Caroline Pedler
£6.99
In stock
Buy from Bookshop.org
Bubble and Squeak are off to Granny's for Christmas. Only how will Santa find them? They try leaving a map and sending Santa a HUGE letter… But when they finally get to Granny's house, there's no chimney! How will Father Christmas get in? It's up to Granny to save the day – and Christmas!
A warm and funny tale to reassure any child spending their first Christmas away from home. This charming picture book will calm any worries about how Father Christmas will find them – or how he enters a house with no fireplace! With adorable illustrations from Caroline Pedler (Don't Wake the Bear, Hare! and It's Potty Time!) and a sparkly glittery cover, it's the perfect Christmas present for grandchildren and grannies alike!
For more Christmas stories from Little Tiger Press, check out Is It Christmas Yet? (Jane Chapman) and A Very Merry Christmas (Maudie Powell-Tuck and Gill Guile)!
Meet the author
Julia was born in Stamford and trained as an architect. She loves the countryside and nature, finding it a pool of inspiration to draw on in her writing. Julia now lives in Gosport with her husband an…
Meet the illustrator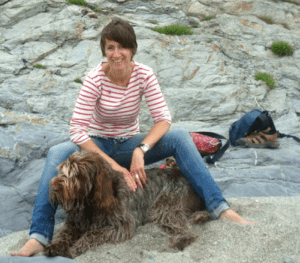 Caroline Pedler illustrated her first children's book in 1999, and has lost count of how many she has illustrated since! With an MA in Illustration-Authorial Practice under her belt, she always has so…