Dangerous!
Author: Tim Warnes
£6.99
Out of stock
Buy from Bookshop.org
Appearances can be deceptive in this quirky, funny picture book from award-winning author-illustrator, Tim Warnes (Monty and Milli – The Totally Amazing Magic Trick, I Don't Want to Go to Bed). Children will love this funny story about surprises, labels and a very unlikely friendship. Packed with adjectives, it's fantastic for expanding your child's vocabulary too. This paperback edition comes with over 100 free stickers! 
Mole loves labelling things, but when he comes across a strange thing, he doesn't know what to call it. It's lumpy and bumpy, and has snippy-snappy teeth. Could it be dangerous? Look out, Mole!
Meet the author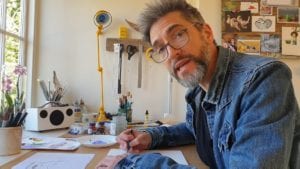 Storyteller Tim Warnes has been writing and illustrating kids' books for 25 years. He's passionate about helping parents and carers nurture their children through stories worth sharing. Tim also enjoy…