News
My So-Called Bollywood Watch List
Monday, 30 November -0001
Posted On 2019-05-01 11:20:55 | Last Update 2019-05-01 17:09:04 | Read 2628 times | 0 Comments
What would Winnie watch? To celebrate the publication of Nisha Sharma's My So-Called Bollywood Life, Stripes Editor-At-Large Sarah Shaffi shares her top tips for indulging in Winnie's passion for Bollywood films.

My So-Called Bollywood Watch List

Colourful clothing, beautiful backdrops, excellent songs, dramatic stories, and characters that worm their way into your hearts - all these are hallmarks of a Bollywood film.

As part of our celebrations around the release of Nisha Sharma's debut novel My So-Called Bollywood Life - a YA rom com with a Bollywood twist - we've been indulging in Bollywood films.

We've watched five films (some good, some not so good) for #BollywoodWednesdays. All five - Khoosurat, Jab We Met, Dilwale, Om Shanti Om and Queen - are on Netflix, and if you haven't had a chance to watch them, we encourage you to set aside a few hours and lose yourself in the magic of Bollywood.
And then? Well, after you've watched the five aforementioned films and read Nisha's book, here are some more Bollywood gems for your to-view list. They're a mix of old and new fare, and I hope you'll enjoy them!
Dilwale Dulhania Le Jayenge (DDLJ)
This 1995 romance - in which two people fall in love during a holiday in Europe even though the woman is already betrothed to someone else - is a complete classic. It stars Shah Rukh Khan and Kajol (who reunited for Dilwale, a so-bad-it's-almost-good film that was part of #BollywoodWednesdays); it's the longest-running film in the history of Indian cinema; and its soundtrack features some absolute gems.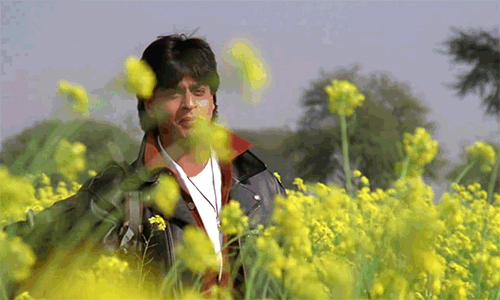 Kabhi Khushi Kabhie Gham
This centres around an Indian family who face troubles and misunderstandings over their adopted son's marriage to a girl belonging to a lower socio-economic group than them. It's another Shah Rukh Khan vehicle, but also stars the grandfather of Indian cinema, Amitabh Bachchan, and Kareena Kapoor.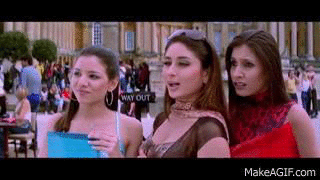 Ek Ladki Ko Dekha Toh Aisa Laga
This 2019 film is a collaboration between Bollywood stars and real-life father and daughter Anil Kapoor and Sonam Kapoor, who also act in the film. The title comes from a 1994 film - 1942: A Love Story - which starred Anil Kapoor, and translates as "I saw a girl and this is what it was like". Ek Ladki Ko Dekha Toh Aisa Laga (which is on Netflix) is the first Bollywood film to feature a lesbian relationship, and follows a woman as she attempts to come out to her religious and traditional Punjabi family.
Henna
In Henna an engaged Indian man has an accident and strays into Pakistani Kashmir, where he falls in love. It has a special place in my heart - it's one of the first Bollywood films I remember watching, its songs are magnificent and it has an ending you're going to need to brace yourself for. Made in 1991, this isn't as slick as some of the films on this list, but I love it. For a newer film with a similar Romeo and Juliet-style plot, you can turn to 2004's Veer Zaara, about an Indian Sikh and a Pakistani Muslim who fall in love.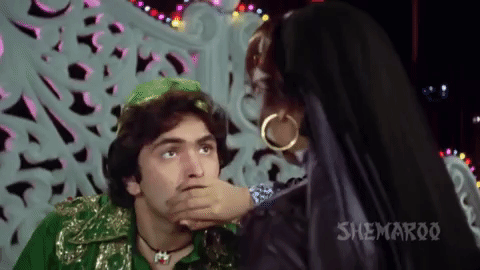 Bajirao Mastani
There are two reasons why you should watch this film: Deepika Padukone and Ranveer Singh. It's an account of the romance between Mastani, a princess, and Baji Rao I, a Marathi general, and it also stars Priyanka Chopra Jonas. Yes, it has music and drama and all of that good stuff, but mostly it has two sizzlingly hot lead actors whose chemistry flies off the screen. It won't surprise you to learn that Padukone and Singh are now married (and had a wedding that I am completely obsessed with).
---